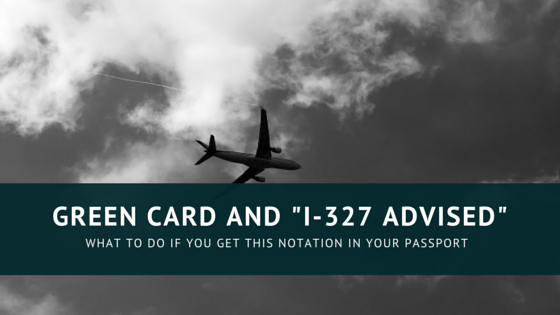 Lawful Permanent Residents (LPRs) who travel frequently outside of the U.S. and spend extended periods of time at a time (during a single trip or through pattern of shorter but frequent trips abroad) are often questioned at the Customs and Border Protection (CBP) U.S. port of entry about their residence and intention to remain a U.S. permanent resident.     What happens at the CBP port of entry has major implications on the ability to retain one's green card and continue to travel freely outside of the United States as a green card holder.
Border Scrutiny on the Rise
A significant (and seemingly growing) portion of our reentry permit practice group's first-time callers are green card holders (who do not have a reentry permit) who have been questioned at the CBP port of entry during their recent entry into the U.S.    Often such CBP interactions are unpleasant, really long and very stressful to the subject green card holder.   During this secondary CBP port of entry inspection and questioning, border officers often ask questions trying to understand the period of time spent by the green card holder outside of the U.S., in addition to the reasons for such trips and maintenance of current and future ties to the U.S.   In other words, the CBP officer is trying to establish whether the green card holder has abandoned their U.S. permanent residency.
As a result of this kind of secondary inspection, a green card holder who has spent extended period of time outside of the U.S. or has demonstrated a pattern of frequent (but not so long) travels abroad may come with a verbal or written warning that they should consider obtaining a reentry permit document – or "I-327 Advised" notation in their passport.
What is the "I-327 Advised" Passport Notation?
"I-327" is the official form number of the reentry permit document.    When a reentry permit (which looks a little bit like a U.S. passport booklet) is issued, its official document name is "I-327."   This is why when a CBP officer recommends a reentry permit, after observation that a green card holder is spending too much time outside of the U.S., they would write "I-327 Advised" in the passport.
The purpose of this notation is to reflect a warning that CBP has determined that the green card holder may be spending too much time outside of the U.S. and that the actual green card may be put in danger.   The notation is a recommendation by CBP to the foreign national to obtain a reentry permit in order to avoid risking their green card validity.
I Received "I-327 Advised" Notation – What Should I Do?
We recommend that you consider obtaining a reentry permit as soon as possible.  Depending on the travel plans and how long the applicant will plan on staying in the U.S., there may be a number of filing strategies.  We certainly recommend that a reentry permit is, at a minimum, filed before departing the U.S. so that during the next entry into the U.S. there will be a proof that steps have been taken to comply with the "I-327 Advised" notation.     Please see our article on Reentry Permit Timing Strategies and Considerations as it discussed important factors and requirements – including the requirement to file the actual reentry permit while the applicant is physically in the U.S. and to complete the required biometrics (which can be done in the U.S. territories only).
Green card holders who are given an "I-327 Advised" passport notation (or its verbal equivalent warning) but do not apply for a reentry permit as soon as possible and while they are in the U.S. take the risk that upon their next entry into the U.S. CBP may subject them to increased scrutiny and perhaps even consider green card abandonment proceedings.    And even if the CBP questioning does not result in more serious consequences, for most people who travel abroad frequently the ability to avoid the secondary CBP questioning  process altogether by flashing a reentry permit upon initial CBP inspection is worth the effort to obtain a I-327 reentry permit document.
Conclusion
Our office has a special reentry permit division where we handle reentry permits on a daily basis for a variety of green card applicant situations and we will be delighted to discuss and, possibly, help throughout the application process.    Please do not hesitate to contact us with any questions or comments or complete the case evaluation and quote form if we can be of any assistance with this or related immigration-related issues.  We invite you to subscribe to our free weekly immigration newsletter to receive timely updates on this and related topics.